Replacing A Timing Belt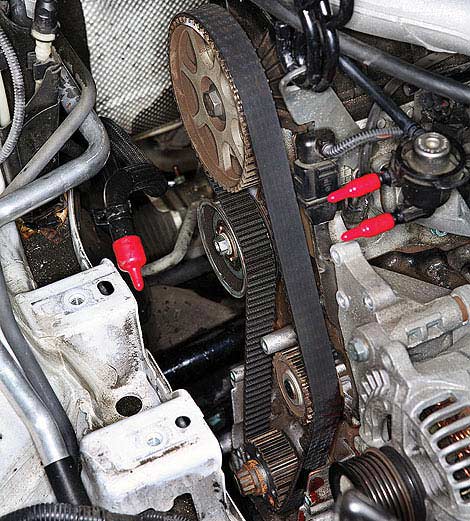 Timing belts last 60,000 to 100,000 miles. check your owner's manual for the manufacturer's replacement interval.
Your six-year-old econobox is starting to show a bit of wear and tear, but everything mechanical still works fine. Until it doesn't. Specifically, the engine suddenly goes dead silent one fine day. Your mechanic says your timing belt failed, then he chuckles into his shirt pocket. Now he gets to charge you for the tow, the belt replacement and a valve job, because there's no compression on two cylinders. You're one of the unfortunates with an "interference engine" -- an engine that can leave one or more valves still propped open far enough to contact a piston when the belt parts. Sadly, sales brochures don't list whether an engine might suffer catastrophic damage if the belt goes.
You probably could have avoided this particular bit of unpleasantness with timely maintenance. It's best to replace the timing belt according to your carmaker's recommended schedule. For the record, many engines -- like those in more expensive models -- still use timing chains, rather than belts, like they did back in the day before the popularity of overhead camshafts. Unlike belts, timing chains usually don't have a routine replacement interval.
The timing belt (or chain) is the sole component that keeps the camshaft (make that camshafts on a DOHC or V-type OHC engine) and crankshaft in sync. So replacing this cogged reinforced-rubber belt at regular intervals -- generally every 60,000 miles unless the car manufacturer specifies longer -- is a lot less expensive and aggravating than having it break first. For your car's maintenance schedule, consult the owner's manual, alldata.com, or the belt manufacturer's poster hanging on the wall at your favorite parts store.
Slow but Steady
Though you'll spend only a few minutes replacing the timing belt itself, it can take an hour or more to dig down through the spaghetti of hoses, wiring and covers found in a modern engine bay. We even had to disconnect and cap a pair of fuel lines when we did the job on this VW 2.0-liter Four.
Study the procedure before digging in, either in a service manual or on the Web. On most transverse four-cylinder engines, you'll have to remove the passenger-side motor mount in order to gain access to the timing belt. This means the entire powertrain needs to be supported in that area while you're working. And finally, getting to the lower portion of multipiece timing belt covers usually requires underbody access. A fender cover doesn't hurt either, to protect the paint from your belt buckle and dropped tools.
border="0" cellpadding="0" cellspacing="0" style="border:thin solid #cccccc;">
(1) Remove any shrouding in the wheel well so you can access the crankshaft snout and the lower timing belt pulley.
(2a) Find the timing marks on the flywheel and cam, and set them both to TDC.
(2b) The flywheel pulley TDC mark is accessible through a hole in the bellhousing.
(2c) The camshaft TDC is easy to find -- especially if you add white paint as we did.